Welcome to WhatDidJesusSay.World
where the importance of knowing and understanding what Jesus Said is supreme, above all others.


WDJS finally answers WWJD

During the last century, Millions of Christians worldwide have seen the initials WWJD and know it stands for "What Would Jesus Do", however very few know where it came from.

Here's the Story: In 1896, for his Sunday night services, Charles Sheldon decided he would write a book, one chapter a week, about various persons who applied "What would Jesus do?" to their lives.

In His Steps became a best-selling religious fiction novel written. First published in 1896, the book has since sold more than 50 Million copies, worldwide and ranks as one of the best-selling books of all time.

We believe, our book WDJS will have a unique impact like WWJD by answering this century old question, What Would Jesus Do?

The best way to know WWJD (What Would Jesus Do), is to know WDJS (What Did Jesus Say) especially to those who loved and followed Him.

We are committed to making our WDJS eSpecial available and downloadable in all digital formats to everyone worldwide online.

IF YOU are financially troubled, please email us at: service@wdjs.world and we'll send you a 'special code' for a free download of our: eSpecial Package

IF YOU are financially strong, please purchase this One of a Kind Book and consider giving us a Gift from your Heart supporting our PROJECT HELP, mentioned below.

We ask you to join us in prayer and share our book: What Did Jesus Say: The Seven Messages from the Master, with your family & friends.

A ONE-OF-A-KIND TEACHING AND DEVOTIONAL EXPERIENCE
The Seven Messages from the Master contain over 500 Bible verses spoken directly by Jesus
as recorded in the red letter edition of the New King James Bible, organized by subject.
Without added interpretations, commentaries or
opinions. Only the simple and profound words of Jesus.
Holiday eSpecial
Regular price

$13.90 USD

Sale price

$9.95 USD

Unit price

per
Share
View full details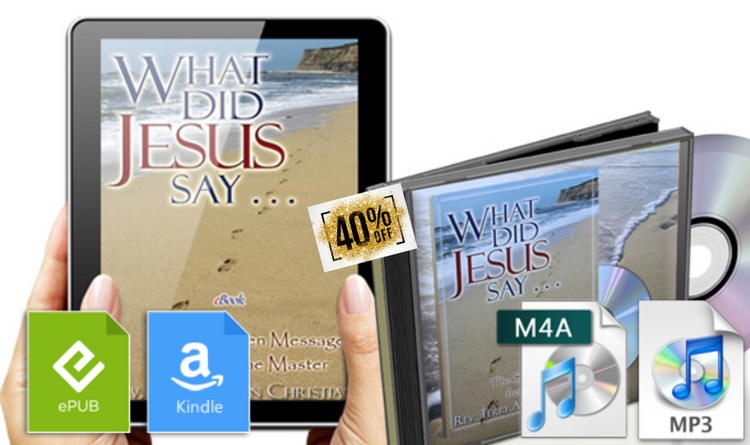 Holiday Author Special
Regular price

$26.85 USD

Sale price

$19.95 USD

Unit price

per
Share
View full details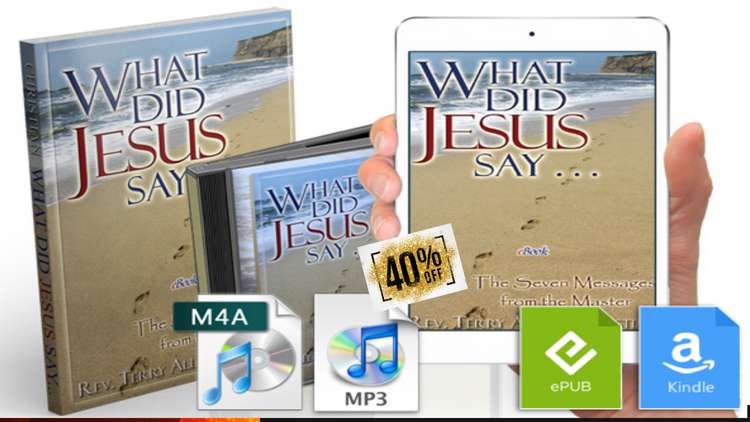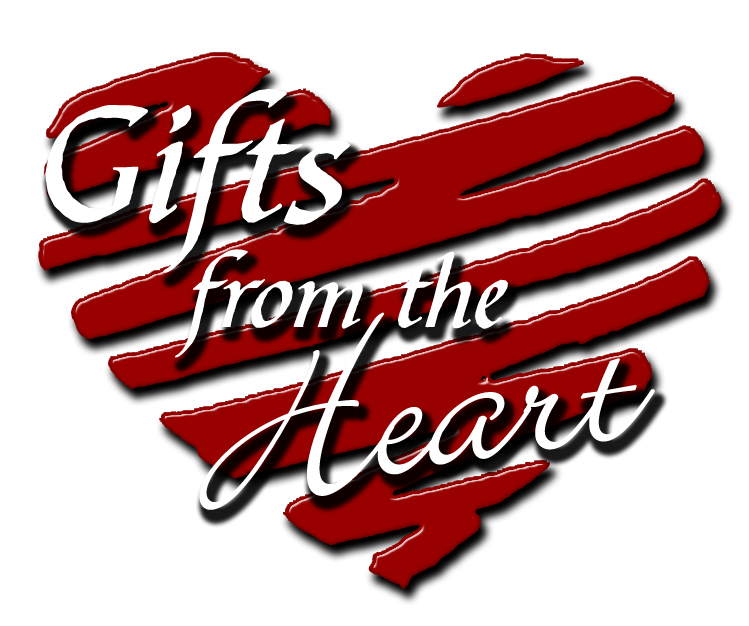 PROJECT HELP
We Invite you to join us in: Project H-E-L-P
Helping Everyone Live Peacefully & Productively
When you HELP us, you're helping people worldwide online who don't know you and you don't them but God knows us all.
Your HELP allows us to HELP everyone we meet whether they need Counseling, a Bible, or food & drink, and a copy of our WDJS book: we lovingly HELP them.
If you understand a need for this type of ministry to HELP everyone worldwide know JESUS, then we ask you to help us, with a Gift from Your Heart.


Give a Gift Today
Testimonials
- Helen Cook, Owner of PrimeStar Publicity and Public Relation

As a person with over 20 years

experience in the publicity and marketing industry I saw the potential for "What Did Jesus Say ..The Seven Messages from the Master". 

As a Christian I recognized the need for this one-of-a- kind book and I consider it an honor and a privilege to have exclusive publicity for WDJS and all related and upcoming products.

- Igniting A Nation: Rabbi Eric Walker

*Rev. Christian has established

an inarguable compelling case of evidence supporting the Seven Messages from the Master. I get 1000's of books sent to me each year and we do 3 live book interviews Monday thru Friday, over 700 a year and I can say this book is 'different'. This book is an extraordinary simple approach to an extraordinary complex topic, but yet builds the case, proves the point, and establishes clearly, in the Seven Messages that Jesus is the Messiah

- Pastor BobThibodeau Kingdom Crossroads

*What Did Jesus Say is a 'marvelous book'

with great content, and I'm really impressed with how Rev. Terry Christian organized his book. There's a lot of good information in this one-of-a kind book. I encourage every Christian to get 2 copies, one for themselves and another one to give away, its pure, containing only the Words from Jesus without added opinions:

- Kingdom Expansion: Worldwide Book

This book is unique.

Never before, has a book been compiled, giving the words of Jesus as He spoke in the Bible. -Presented as a full color and beautifully illustrated e-book or paperback version with large, easy to read text, this book makes a perfect gift for anyone wanting to know Jesus and what He said. It's
nothing short of phenomenal and will impact your life as you become more like Jesus.

 - Dr. KeithaStory-Stephenson

*I want to thank you.

for such an Informative and Powerful interview! It was an honor to be with you today and I can see God was the Author of
your book and you were 'simply' His Pen:

- USA

*I've read the Bible in a year

studied the New Testament and Revelations in a small group, but
What Did Jesus Say helped me understand what having a personal relationship
with Jesus truly means".